For Media:
Press Kit
This press kit from the PreemploymentDirecotry.com provides media professionals and others with important, frequently requested information about our mission and operations. The press kit is updated quarterly.

About PreemploymentDirectory.com

Biography
W. Barry Nixon, SPHR

Request an Interview
Contact Barry Nixon at


Business hours: 8:30 AM to 10:00 PM (Pacific Time Zone)
Business Phone: 1-949-770-5264

My Press Releases:
View the most recent information about PreemploymentDirectory.com recent events and news through press releases.
06/02/14
04/02/14
01/27/15
03/18/15

Press Releases with quotes from our team:
View other firms press releases with quotes of PreemploymentDirectory.com's staff.
deverus

Publications:
Annual Background Screening Industry Buyers Guide

Register to receive the Annual Background Screening Industry Buyers Guide

.
The Background Buzz
(monthy ezine)


The Global Background Screener
(bi-monthy ezine)


APAC Background Screening Report
(quarterly ezine)
PreemploymentDirectory.com provides professionals who conduct background checks internal to their organization and external providers of background checks with a library of publications. A limited number of publications are available to order in hard copy, while all are available for download as PDFs. To view PDFs you may need to download a PDF reader.
Survey  Results and Trend Reports on Background Checks:
United States
2014
2015
International
2013
2014

For an in depth look at background screening read the following book: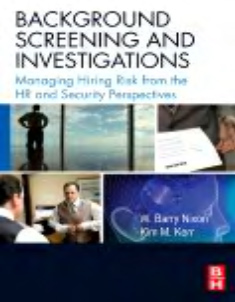 Managing Hiring Risk from the HR and Security Perspectives
By W. Barry Nixon, SPHR and Kim Kerr, CPP
352 pages 16 ills
Copyright 2008
USD 49.95, Reference
Butterworth-Heinemann Title
ISBN: 978-0-7506-8256-5
Available on Amazon.com
EmployeeScreenIQ: The Unvarnished Truth: 2014 Top Trends in Employment Background Checks