Subscribe to the Background Buzz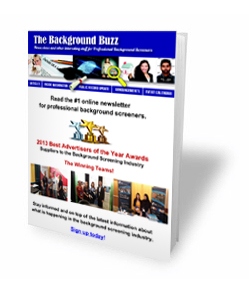 The Background Buzz is widely acknowledged as the leading online newsletter for the background screening industry and professional background screeners depend on it as their news source. Every edition is packed full of relevant and timely information with the goal to keep readers interested in background screening informed about legislative issues, new laws at the federal, state and local level, technology advances, data protection and privacy issues, occupational fraud, drug testing, etc.
In addition, each issue of The Background Buzz includes 'The Washington Report' which is an update on what is happening in the U.S.' capital city that background screeners need to know about. Whether it's a new guidance being issued by the Equal Employment Opportunity Commission (EEOC) or a hearing on a new focus area, or updates on the latest decisions by the Consumer Finance Protection Agency (CFPA) or an Federal Trade Commission action or other legislative initiatives our Washington correspondents keeps our readers informed about the buzz around "the hill."
Each edition of The Background Buzz also includes a Legal Challenge question & answer to help keep professional background screeners on top of their game and knowledgeable about their trade. This is a good primer for individuals interested in preparing for the Fair Credit Reporting Act (FCRA) certification test.
The Background Buzz also has a regular column called Public Records Update that is authored by the renowned public records guru, Mike Sankey, BRB Publications and the Public Record Retrieval Network (PRRN). This column keeps readers informed about changes occuring that impact access to court records and other relevant information that professional records retrievers need to know about.
Other columns that periodically appear in The Background Buzz include 'The Background Bistro' which features an interview with a C-Suite executive of a background screening firm. The focus of the interview is to learn about new directions that their business is heading and gain their perspective on what is happening in the background screening industry.
Another column that periodically appears in The Background Buzz is 'ViewPoint' which focuses on an emerging or controversial issue that is or has potential to impact the background screening industry. The goal of this column is to look forward and see what may be coming that professional background screeners need to pay attention to and prepare for.
All editions of The Background Buzz are posted to our archives to provide a rich history of what has been happening in the background screening industry and to serve as reference tool for professional background screeners to research at any time. If you want to know what has happened and to be informed about what is a happening then you should be reading The Background Buzz.
The Background Buzz Archive 2015:
Volume 11, Edition 1, January 2015
Volume 11, Edition 2, February 2015
Volume 11, Edition 3, March 2015
Volume 11, Edition 4, April 2015
Volume 11, Edition 5, May 2015
Volume 11, Edition 6, June 2015
Volume 11, Edition 7, July 2015
The Background Buzz Insider
The Global Background Screener Archive:
The Background Buzz International Edition – Volume 2, April 2013
The Background Buzz International Edition – Volume 3, July 2013
The Background Buzz International Edition – Volume 4, November 2013
The Background Buzz International Edition – Volume 5, January 2014
The Background Buzz International Edition – Volume 6, March 2014
The Background Buzz International Edition – Volume 7, May 2014
The Background Buzz International Edition – Volume 8, July 2014
The Background Buzz International Edition – Volume 9, September 2014
The Background Buzz International Edition – Volume 10, November 2014
The Global Background Screener – Volume 11, March 2015
The Global Background Screener – Volume 12, April 2015
The Global Background Screener – Volume 13, June 2015

The Background Buzz Archive 2014:
Volume 10, Edition 1, January 2014
Volume 10, Edition 2, February 2014
Volume 10, Edition 3, March 2014
Volume 10, Edition 4, April 2014
Volume 10, Edition 5, May 2014
Volume 10, Edition 6, June 2014
Volume 10, Edition 7, July 2014
Volume 10, Edition 8, August 2014
Volume 10, Edition 9, September 2014
Volume 10, Edition 10, October 2014
Volume 10, Edition 11, November 2014
Volume 10, Edition 12, December 2014
The Background Buzz Archive 2013:
Volume 9, Edition 1, January 2013
Volume 9, Edition 2, February 2013
Volume 9, Edition 3, March 2013
Volume 9, Edition 4, April 2013
Volume 9, Edition 5, May 2013
Volume 9, Edition 6, June 2013
Volume 9, Edition 7, July 2013
Volume 9, Edition 8, August 2013
Volume 9, Edition 9, September 2013
Volume 9, Edition 10, October 2013
Volume 9, Edition 11, November 2013
Volume 9, Edition 12, December 2013
The Background Buzz Archive 2012:
Volume 8, Edition 1, January 2012
Volume 8, Edition 2, February 2012
Volume 8, Edition 3, March 2012
Volume 8, Edition 4, April 2012
Volume 8, Edition 5, May 2012
Volume 8, Edition 6, June 2012
Volume 8, Edition 7, July 2012
Volume 8, Edition 8, August 2012
Volume 8, Edition 9, September 2012
Volume 8, Edition 10, October 2012
Volume 8, Edition 11, November 2012
Volume 8, Edition 12, December 2012

The Background Buzz Archive 2011:
Volume 7, Edition 1, January 2011
Volume 7, Edition 2, February 2011
Volume 7, Edition 3, March 2011
Volume 7, Edition 4, April 2011
Volume 7, Edition 5, May 2011
Volume 7, Edition 6, June 2011
Volume 7, Edition 7, July 2011
Volume 7, Edition 8, August 2011
Volume 7, Edition 9, September 2011
Volume 7, Edition 10, October 2011
Volume 7, Edition 11, November 2011
Volume 7, Edition 12, December 2011

The Background Buzz Archive 2010:
Volume 6, Edition 1, January 2010
Volume 6, Edition 2, February 2010
Volume 6, Edition 3, March 2010
Volume 6, Edition 4, April 2010
Volume 6, Edition 5, May 2010
Volume 6, Edition 6, June 2010
Volume 6, Edition 7, July 2010
Volume 6, Edition 8, August 2010
Volume 6, Edition 9, September 2010
Volume 6, Edition10, October 2010
Volume 6, Edition 11, November 2010
Volume 6, Edition 12, December 2010
The Background Buzz Archive 2009:
Volume 5, Edition 1, January 2009
Volume 5, Edition 2, February 2009
Volume 5, Edition 3, March 2009
Volume 5, Edition 4, April 2009
Volume 5, Edition 5, May 2009
Volume 5, Edition 6, June 2009
Volume 5, Edition 7, July 2009
Volume 5, Edition 8, August 2009
Volume 5, Edition 9, September 2009
Volume 5, Edition 10, October 2009
Volume 5, Edition 11, November 2009
Volume 5, Edition 12, December 2009
The Background Buzz Archive 2008:
Volume 4, Edition 1, January 2008
Volume 4, Edition 2, February 2008
Volume 4, Edition 3, March 2008
Volume 4, Edition 4, April 2008
Volume 4, Edition 5, May 2008
Volume 4, Edition 6, June 2008
Volume 4, Edition 7, July 2008
Volume 4, Edition 8, August 2008
Volume 4, Edition 9, September 2008
Volume 4, Edition 10, October 2008
Volume 4, Edition 11, November 2008
Volume 4, Edition 12, December 2008
The Background Buzz Archive 2007:
Volume 3, Edition 1, January 2007
Volume 3, Edition 2, February 2007
Volume 3, Edition 3, March 2007
Volume 3, Edition 4, April 2007
Volume 3, Edition 5, May 2007
Volume 3, Edition 6, June 2007
Volume 3, Edition 7, July 2007
Volume 3, Edition 8, August 2007
Volume 3, Edition 9, September 2007
Volume 3, Edition 10, October 2007
Volume 3, Edition 11, November 2007
Volume 3, Edition 12, December 2007
The Background Buzz Archive 2006:
Volume 2, Edition 1, January 2006
Volume 2, Edition 2, February 2006
Volume 2, Edition 3, March 2006
Volume 2, Edition 4, April 2006
Volume 2, Edition 5, May 2006
Volume 2, Edition 6, June 2006
Volume 2, Edition 7, July 2006
Volume 2, Edition 8, August 2006
Volume 2, Edition 9, Septembert 2006
Volume 2, Edition 10, October 2006
Volume 2, Edition 11, November 2006
Volume 2, Edition 12, December 2006